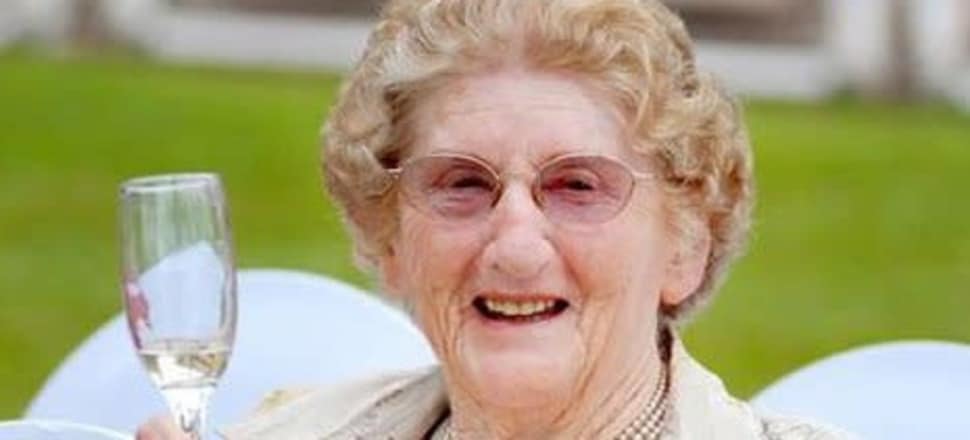 5370537724001
Obituary Moira Cameron (nee Clark)
Born: October 8, 1919.
Died: May 11, 2018.
Moira Clark was born on the kitchen table at Moira Station, south of Mathoura on Wednesday, October 8, 1919 to parents John and Mary.
She was the youngest of eight children, although one of her siblings, Vera, died four years before Moira was born.
Moira grew up in a loving environment spending time between Moira Station and Illilawa Station east of Hay. The family also had a house in Brighton, Victoria which was used for city visits.
One of Moira's favourite pastimes was riding her horse 'Cummeragunja' around Moira Station accompanied by one of their employees who lived at the Cummeragunja settlement near Barmah.
He was the only one her parents trusted to look after her away from the homestead, having lost Vera in a drowning accident when she was two.
Moira was sent away to boarding school when her father died suddenly in 1933, having been home schooled by a governess until then.
Firbank Grammar School was an eye opener for this country girl, opening up the world of dance, sport and new friends.
Moira was an accomplished ballroom dancer, winning many accolades over her years at school. Her sporting prowess was primarily tennis attending the LC Falls School of Tennis, which she had a love of all her life, passing that onto her daughters Mary-Anne and Pam, which then extended to the next generation (it must have been genetic).
Moira was also a Girl Guide and attended the Victorian Centenary of Girl Guides Rally in 1935, and was also a prefect at Firbank in 1936.
Upon graduating, Moira headed to Illilawa to help on the farm, but soon the war started so she joined the Women's Air Training Corp. Soon after labour was short so she decided to stay on at Illilawa.
Moira had kept in touch with one of their employees, Owen Alwen, who had joined the army and wrote to her and her sister, Peggy, of his experiences during the war.
Moira kept all his letters and stated in later years that the war did not impact her as much as it did others, although without the war she would not have met her husband, Alan.
After peace was announced Moira decided to head back to Melbourne, starting work as a secretary at the Blood Bank in South Melbourne where she made many lifelong friends.
In 1952 she met the man of her dreams, Alan Rentoul Cameron, a returned serviceman who was working on Oolambeyan Station, Carrathool as the overseer. They had both attended the Hay Picnic Races then headed off to the Race Ball, with other partners.
Alan always said it was love at first sight for him. He couldn't get over Moira's beautiful auburn hair.
Moira was actually with Peter Rowe and Alan escorted Peter's eventual wife, Toni Matthews.
Peter married Toni and Alan would marry Moira and they remained friends all their lives. In fact, Alan was Peter's best man at the wedding.
Moira's family, deciding that Alan may not have had time to get over being a prisoner of war, decided to send her on an extended overseas trip with three of her best friends. They were astounded by the locks on the Suez Canal and then sailed through the Mediterranean Sea where Mount Etna was erupting. The ship's captain altered course so they could get a better look, which they all found very exciting. One of their highlights was swimming at Travuminde on the Baltic sea, and they also covered most of Europe and all of the British Isles.
Alan saw her off at the dock and was there to welcome her home, and the rest, as they say, is history. They married on October 28, 1954 and had their first daughter, Mary-Anne, a year later in 1955, followed by Pam in 1958.
Mary-Anne married Bill Butcher and they have four daughters and seven grandchildren, and Pam, who was married to the late John Nelson, has one son.
Moira was very community minded, volunteering for many clubs, committees and assisting others who may not have been able to attend appointments. She drove her friends to appointments in surrounding cities and towns, visited those who were housebound and generally made sure everyone was looked after.
In 2010 Moira was named Deniliquin's Citizen of the Year, an honour she believed should have been given to someone more worthy.
Moira had a very large and close group of school friends, numerous friends from her days at the Blood Bank, and many in Deni who she became friends with over the years.
It always amazed her that as her friends pre-deceased her, she seemed to gather more, but that just summed her up — always positive, outgoing, vibrant and very caring.
Moira was also a loved grandmother to Katrina, Lucinda, Nicole and Alysson Butcher and their partners, and Rhett Nelson; great grandmother to Mia and Ava Perri, Oliver, William and James Dawborn and Isabella and Natalie Bennett; aunt, great and great-great aunt to her many nieces and nephews, often becoming a surrogate grandmother to them.
Moira's passing signals the end of an era as she was the last surviving member of her generation from both the Clark and Cameron families and is greatly missed by all who knew her.